It's been another busy week in the Women's world of football, Josh Bunting brings us through the last seven days.
No New Coronavirus Cases In The Women's Super League
The Women's Super League and Championship have returned no positive coronavirus tests from the 1,194 carried out in the leagues' second batch of testing, the Football Association has confirmed.
A total of 1,194 tests were carried out at clubs between Sunday, July 12 and Sunday, July 19. That follows one positive result being returned from 802 tests conducted across the previous eight days.
Clubs are currently required to test players twice a week under strict protocols that also initially restrict players to small-group training and demand their temperatures are checked upon arrival.
Arsenal, Tottenham Hotspur and West Ham United all returned to training last week as they were required to follow the new protocols.
The FA has targeted the weekend of September 5-6 as the date for the start of the 2020-21 WSL season. Meanwhile Arsenal's champions league opponents Paris Saint-Germain returned to match action on Tuesday as they defeated Paris FC 4-1 in a friendly.
The Gunners will meet the French side on Saturday August 22 in San Sebastian.
Tottenham Hotspur Bring In Kerys Harrop 
Tottenham Hotspur Women have announced their first summer signing as they've brought in defender Kerys Harrop.
Harrop has put pen to paper at the Lilywhites until 2022 and will wear the number 5 shirt in north London ahead of the 2020-21 season. She played for Birmingham City for 20 years as she came up through the ranks of the Club's RTC and Academy before making her first Team debut when she was 15 years old against Arsenal.
Harrop started the 2012 FA Cup final victory over Chelsea and captained the Blues for the 2017 FA Cup final at Wembley.
She was also a member of the side who finished runners-up in the Barclays FA Women's Super League for two consecutive seasons in 2011 and then again in 2012
The defender has also been involved with the England National Team at Under 19 and Under 23 level and was part of the Under 19 squad who won the European Championships in Belarus in 2009. She was also a member of the Great Britain team who won a Gold medal in Kazan in the 2013 World University Games.
Speaking after signing she told the club website "Coming to Spurs is a very exciting challenge for me and I know that the Club are heading in a positive direction. I want to continue to develop as a player under the management of Karen and Juan, and give my all to the Club both on and off the pitch.
"Having previously played in FA Cup finals and in the Champions League, I want to experience that again and I'm hopeful of doing that here at Spurs."
West Ham United Women Bring In Hawa Cissoko 
West Ham United have signed French international Hawa Cissoko.
The 23-year-old former Paris Saint-Germain youngster arrives from French club ASJ Soyaux. "It makes me very happy to join West Ham United," she told the Hammers' club website. "I know West Ham is a big club and it is a dream for me to come here and play in England. I am so very, very happy to be here."
Head coach Matt Beard added: "Hawa is a versatile defender who can offer something a bit different to what we have had in our back-line. She is a very athletic player who doesn't mind a tackle and comes with a great energy.
"She can also play centre-back and left-back too, which is fantastic for us and gives us options across the defence."
Aston Villa Bring In Lyon Goalkeeper
Aston Villa have signed goalkeeper Lisa Weiss from French and European champions Lyon. The 32-year-old becomes Gemma Davies' fourth signing of the summer.
Davies said: "Lisa is going to bring many qualities, on and off the pitch, to complement our existing squad. She knows what it takes to be successful at the top level, both on the international stage and domestically.
"Lisa was keen to take on a new challenge and we're hoping she can help us as we embark on our first season in the FA Women's Super League."
"I want to give my experience to the team, and I think this a great adventure for me to be here at Aston Villa," said the goalkeeper in her first interview with VillaTV.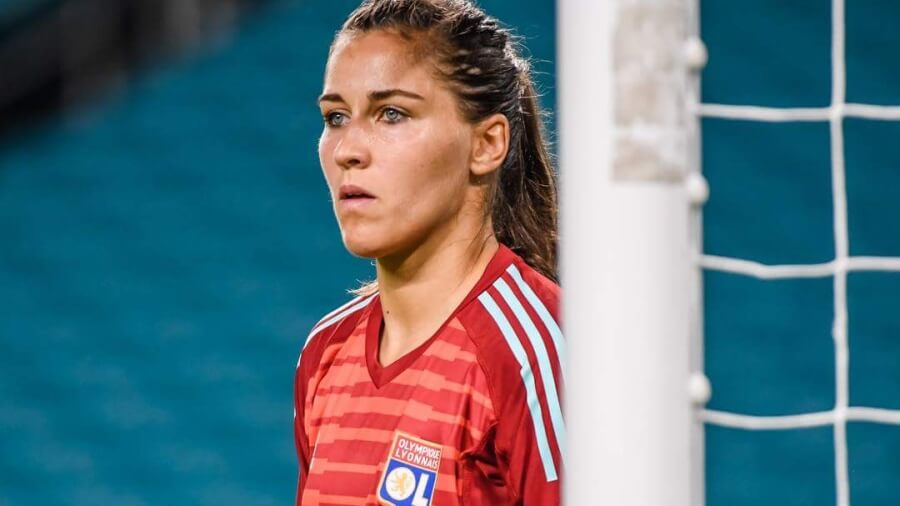 "The main reason for joining is that I'm still looking for an adventure. I still want to play, and I want to be on the pitch. "I want to help the team improve on their success. I've always thought about playing in England, it was always a goal for me".
"I'm coming over from France, which was a good experience, but I didn't play that much. I was also with Essen in Germany for 11 years. I was in my comfort zone. I needed something new, I needed a new step in my life".
"In England, there are a lot of great teams. I'm looking forward to it." The new WSL season is set to begin on the weekend of 5-6 September.
Chelsea Women Complete Fleming Deal 
Chelsea Women have completed the signing of Canadian Jessie Fleming on a three-year contract.
The 22-year-old midfielder has joined the Blues from UCLA Bruins, a football programme at the University of California, Los Angeles. In 75 appearances and notched 25 goals for the UCLA Bruins.
Fleming has won a host of individual awards Canada Under-20s Female Player of the Year in 2015, 2016, and 2017 and the Under-17s Female Player of the Year in 2014. Fleming was also named in the Best XI in the 2018 CONCACAF Women's Championships and was a finalist for the MAC Hermann Trophy, which goes to the top college football player in the USA, in 2017 and 2019.
Fleming has represented her national team at Under-17s and Under-20s level before becoming the second-youngest player to ever play for Canada when she made her senior debut at the age of 15.
She becomes Chelsea's third summer signing as they've brought in Niamh Charles and Melanie Leupolz ahead of the 2020-21 season.
Fleming told the Chelsea website 'I knew I really wanted to play in the WSL, I think the league is doing really well right now and there is a ton of fantastic players in the league so that really excited me".
'For Chelsea it was the players here and I wanted to be in a challenging environment. Having conversations with Emma [Hayes] and learning a bit more about the team, I was just really excited about the environment and what it has to offer".
Manager Emma Hayes added "Jessie is one of the top young players in the world, so for us to be able to sign her is a testament to the work that has been done here for a number of years. She chose Chelsea, this was her priority, her first choice and we were over the moon to get her".
---
---
 16+ PODCASTS P/MONTH

 12+ SHOWS P/MONTH

 DAILY ARTICLES inc SPECIAL GUEST WRITERS

 EXCLUSIVE INTERVIEWS

 Pre and Post Match Shows
FREE month Trial:https://buff.ly/2GNsNTv
West Ham United Women Appoint New Performance Coach
West Ham United Women have appointed Jenny Coady as their new performance coach.
Coady is a former international basketball player and coach with Ireland and will combine her role with the Hammers alongside her position as a High Performance Coach Developer with UK Coaching, a role that has seen her work across 13 Olympic sports.
"It's very exciting to be part of this amazing set up here with West Ham United women's team at Chadwell Heath," Coady told whufc.com.
"I am delighted to work with such talented and forward-thinking players and staff. It's a privilege to be part of any sports person's journey and I'm looking forward to working closely with Matt, Aidan, the coaching staff and the entire team during what I'm confident will be a great season for us!"
Coady who comes from the Republic of Ireland played as a guard in basketball for Ireland and WIT Wildcats, Coady has worked with UK Coaching since August 2018, helping to support coaches across 13 high-performance Olympic sports on their respective journeys.
Prior to her position with UK Coaching, Coady worked with the London Gaelic Athletic Association as the lead performance analyst. West Ham United women's newest performance coach is also accredited with the Irish Institute of Sport as a performance analyst.
Coady boasts a masters in Sports Psychology and will work closely with the women's team and coaching staff to ensure the squad are in the best possible condition for the 2020/21 Barclays FA Women's Super League campaign.
Charlton Athletic Handed A Boost As Lilli Maple Pens New Deal
Charlton Athletic Women have been handed a huge boost ahead of the 2020-21 season as last season's Player of the Season Lilli Maple has signed a new contract.
She said: "I'm delighted to have resigned. The club is a great place to be and my main reason for staying is because of the coaching staff and players that I'm around. I know they'll help me keep developing and improving as a player."
The midfielder played every league game during the last campaign. She has 39 appearances for Charlton and will be entering her third season with the Addicks.
The 24-year-old has also had spells at Watford, Millwall and Crystal Palace before settling down at the Valley.
Manager Riteesh Mishra said: "Lilli last season was in the best physical shape I've seen her – she had a tough end to the previous season but she really worked hard in the off season and was integral to our midfield.
"She's a great personality on and off the pitch and is important, and I'm proud of her growth over the last season."
Millwall Announce Retained List
Millwall Lionesses have announced their retained list ahead of the new 2020/21 campaign. In total, Millwall have retained fourteen players from last year's signed players.
Kelly Webster, Elissa Stone Brook, Jansu Mentesh, Millie Connell, Katie Klosinski, Daniella Correa Colorado, Sian Fitzpatrick, Samantha Middleton, Kaitlyn Lewis, Libby Stubbs, Alyssa Miranda, Shannan Drewe, Olivia Gregory and Molly Hawkins have all committed their future to the club ahead of the new season.
New manager Katie Whitmore told the club website "I believe each of the girls earned the opportunity to play for us again this season due to their commitment and loyalty shown over the last campaign. It's a strong squad for this level and I'm excited to get started with them."
Head of Recruitment Nick Farrell added "Our trials have gone extremely well and we have definitely seen some players that will add quality to this squad. It's exciting times to sign for Millwall Lionesses and we can't wait to be back playing competitive football soon."
Goalkeeper Webster was delighted to extend her stay in south London as she said "I am proud and honoured to say I am staying at Millwall Lionesses for another season I love this club with all my heart. Shows the bond we all have together".
Lydia Williams Wins W-League Goalkeeper Of The Year
New Arsenal Women's goalkeeper Lydia Williams has been named as the 2019/20 Westfield W-League Goalkeeper of the Year, alongside Sydney FC's Aubrey Bledsoe.
Williams who moved to the Gunners from Melbourne City earlier this month picked up a record fourth Golden Glove having claimed the award in the 2010/11, 2011/12 and 2016/17 seasons.
The 32-year old played every match for Melbourne City in their premiership and championship double winning season, racking up 1260 minutes, and was key to City obtaining the best defensive record in the league.
Williams was first in the league for clean sheets (9) and first in save percentage (86.5%).
As Australia's number one, Williams has made 88 appearances and will now join up with international teammates Steph Catley and Caitlin Foord at her new club.
Williams will add further competition for the number one jersey at Arsenal as she will battle it out with Manuela Zinsberger and Fran Stenson to claim that spot.
Wiliams has also featured for Canberra United, Chicago Red Stars, Pitea, Western New York Flash, Washington Spirit, Houston Dash and Reign.
Crystal Palace Sign Georgia Clifford From Oxford United 
Crystal Palace Women have announced the signing of Georgia Clifford from Oxford United. The centre-back spent a season with Oxford in order to aid her recovery from an ACL injury that she sustained during her two seasons with Reading.
Clifford was crowned as the clubs player of the season last year at the U's so it's a high quality signing for the south London club. She helped Oxford United finish third in the FA Women's National League Southern Premier Division when play was halted by the coronavirus pandemic.
Speaking to the club website Clifford said "I'm really excited to join Palace as it has always been a club I have admired,".
"The drive and determination within the staff and players to keep developing and to move higher within the women's game is something I look for in a club."
Eagles boss Dean Davenport added" To return from a severe ACL in the manner in which Georgia has demonstrates the characteristics that I look for in our players.
"With Annabel [Johnson] named our new captain, Ffion joining and Amy [Goddard] playing in every game last season, Georgia adds further quality to an already impressive rear guard."
Clifford becomes the fourth signing off the summer at Palace as Chloe Morgan, Ffion Morgan and Kate Natkiel have been brought ahead of the 2020-21 campaign.
Blackburn Rovers Ladies Captain Signs New Deal
Blackburn Rovers Ladies have been handed a huge boost heading into the 2020/21 season as captain Saffron Jordan has signed a new contract at the club
The deal will see the forward remain with Rovers until at least the end of the 2020-21 season and has been signed as the Blues prepare to compete in the FA Women's Championship once again.
Jordan has been a crucial part in Gemma Donnelly's forward line for the past six seasons, after a two-year spell playing in the USA. She scored six goals in all competitions during 2019/20 and assisted six more, and was recognised for her efforts by picking up Supporters' Player of the Year at the Ladies' virtual End of Season Awards last month.
She has been Rovers' top goalscorer three times and won Player of the Match in the FAWNL Cup final in 2017-18.
Speaking to the club website she said "It feels amazing to be offered a contract," Jordan commented. "I love this club and it seems like my loyalty and play is getting rewarded, which is obviously a really nice feeling."
In total, the 26-year-old has made 143 appearances for the Club, scoring 111 times in a Blue and White shirt.
Blackburn finished 7th with 10 points in their debut season in the FA Women's Championship last season.
Sarah Robson Pens New Durham Deal 
Northern Ireland senior international Sarah Robson has signed a new contract with FA Women's Championship side Durham.
Since arriving at the club in 2016 she is now approaching 100 appearances for the club. Robson started her career at Moyola Park before moving to Ballymena United Allstars.
In 2005, she won a scholarship to University of Southern Mississippi before she headed to the Icelandic Úrvalsdeild, where she played for Fylkir, then Grindavík
She has also played for Sunderland and Fimleikafélag Hafnarfjarða. The combative midfielder has won more than 60 caps for her country after making her debut against Sweden in March 2005.
"I'm excited to be signing for Durham for another season," she told the club website. "I'm looking forward to getting back out in front of the fans again soon as we've missed them loads over the last few months – so we'll hopefully see them all very soon."
Manager Lee Sanders added: "I'm really pleased to have Sarah with us for a further season. "She brings that experienced head to the middle that all teams need – she knows how and when to break things up to slow the opposition down, she's fiercely competitive and keeps herself in good shape as she looks to continue her international career and compete in the delayed qualifiers and tournaments".
Durham finished third in the curtailed 2019-20 FA Women's Championship season with 32 points behind Sheffield United and champions Aston Villa.
Crystal Palace Announce Welsh International 
Crystal Palace Women have snapped up right-back Ffion Morgan, from fellow Championship side Coventry United Ladies.
The 20 year old is regarded to be one of the finest talents in the Championship. She began her career with Ammanford and Cardiff City before joining Coventry in 2019.
She made her international debut for Wales in 2017 against Northern Ireland and has been a regular in Jayne Ludlow's side to date.
Eagles manager Dean Davenport was delighted his side could pull the deal off ad he said "Ffion was one of the opposition players that stood out to us last year," Davenport admitted. "Therefore, when the opportunity to sign her came up, the club knew it was one that they needed to make happen"
"Having someone arrive with her international pedigree [nine caps for Wales] will be a big bonus to the side on and off the pitch; a great statement signing."
Morgan, who obtained her UEFA B coaching license whilst recovering from an ACL injury at 17, cannot wait to get started in south London: "I'm super excited to be part of the team at Crystal Palace," she said." I'm looking forward to a successful season as an Eagle.
Article by Josh Bunting – @Buntingfootball