With no football, it has been another busy week in Women's Football with teams being crowned champions of their respective leagues and players already on the move for the next campaign. Josh Bunting takes us through the last 7 days in the Women's world of football.
Women's Super League Clubs Assume Season Is Over.
Women's Super League clubs are assuming that the season will not resume according to BBC Sport.
Several clubs have told the BBC that they are expecting the season to be concluded without being played to a finish due to the coronavirus crisis. Clubs are set to receive a letter from the Football Association to find out what they want to do next in terms of ending the season. It is understood the joint WSL and Women's Championship board would then decide how to determine final placings.
The Football Association said in a statement on Monday that it envisaged "significant challenges in completing the season", with no WSL being played since February
Arsenal currently sit third in the table four points behind leaders Manchester City while Chelsea are second one point of the summit but have a game in hand. Chelsea have the best average points-per-game record in the division so would be crowned champions if it were to be decided on points per game.
At the foot of the table there has been no decision on relegation or to promote a side from the Championship.
Lyon Crowned French Champions
Lyon have been crowned French champions for a record 14th season in a row.
The French Football Federation (FFF) confirmed the decision with no games possible because of the coronavirus pandemic. The current champions of Europe were three points ahead of Paris Saint-Germain with six games left to play but no matches had taken place since March.
It means England duo Alex Greenwood and Nikita Parris have won the league title in their debut seasons in France while Lucy Bronze picks up her third winners medal with Les Gones. The FFF have also announced that they have relegated the bottom two clubs, Marseille, and Metz.
Lyon and Paris Saint-Germain will be the French representative's in the 2020/21 UEFA Women's Champions League season.
Everton Midfielder Inessa Kaagman Confirms Departure From Merseyside.
Everton midfielder Inessa Kaagman has announced that she is leaving the club at the end of the season.
In a post on her Instagram account on Wednesday evening she said, "After two really nice years I have decided to leave Everton at the end of the season".
"I had two great years where everyone at the club made me feel so welcome and at home, I would like to thank all the staff and players for making me feel that way".
The Dutch International went on to add "Thanks a lot I'm going to miss you all, it's time for a new challenge and I can't wait to see what the future holds". It is not yet known where the 24-year-old is set to move on to after featuring for the Toffees on 12 occasions in 2019/20 before the season was suspended due to the coronavirus pandemic.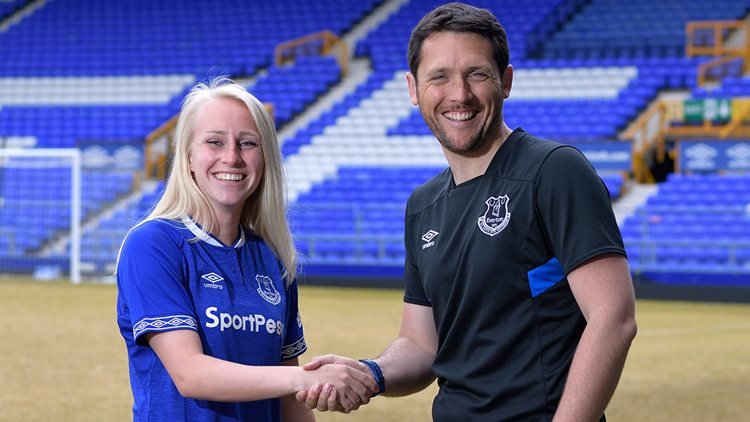 The midfield star signed from Ajax two years ago and went on to make 31 appearances in the Barclays Women's super League, scoring five times.
Before moving to England, she played at Ajax for five seasons winning the KNVB Cup in 2013/14 before winning the league and cup double in 2016/17.
Kaagman was also part of the Netherlands Women's World Cup squad that finished runners up in France last summer.
Swansea City Crowned Welsh Champions.
Swansea City were crowned Orchard Welsh Premier Women's League on Tuesday night following the conclusion of the league due to the coronavirus pandemic.
Josh Bunting caught up with Swans midfielder Emma Beynon to discuss her emotions on being crowned champions and qualifying for the UEFA Women's Champions League.
Describing her feelings at the club becoming champions for a fourth time Beynon said "It feels great to be crowned champions, we've worked hard this season and it's good to finally be rewarded for all the hard work that we've put in on and off the pitch".
What made the achievement even more special for Swansea is the fact they went the full season unbeaten and sat four points clear of nearest challengers Cardiff Met.
Asked was it the best achievement of her career to date Beynon explained "I think so yes, I've enjoyed my football this season and I think that shows in the games".
"The team morale is very high at the moment and it's showing with the football that we are playing and the results that we had this season".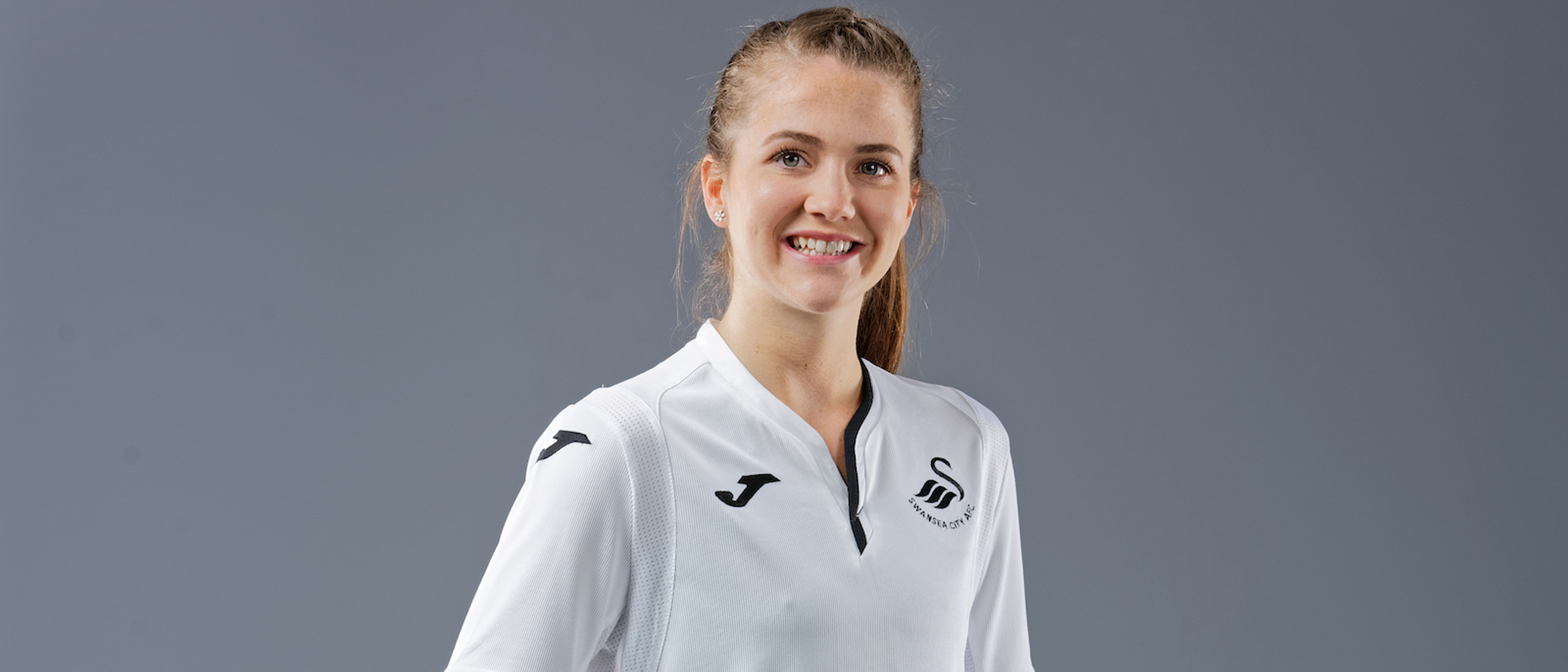 The Swans enjoyed a near perfect record, winning 10 matches out of 11 and drawing one against South Wales rivals Cardiff City.
Asked about her highlight of the season she added " My highlight was definitely the first game of the season away against Cardiff Met ,we all knew it was going to be  one of the hardest games of the season with them coming off their unbeaten season last year"
"To come away with the win definitely set us up for the season, the girls put in so much effort and I couldn't have been happier to be able to captain the girls that game".
With the title win, a place in the Champions League is secured and Beynon is very excited with the prospect of mixing it up with some of Europe's finest teams "It means everything to be able to play in Champions League, it's definitely one of the best competitions that I've played in as the standard of games are a different level". "I'm ready to work hard and hopeful we are able to compete against the best teams".
As a footballer there is simply nothing better than winning your domestic league, asked where the title victory ranks in her career to date she said "It's definitely up there with one of the best achievements having previously won it before but this time it being unbeaten".
"However, it's definitely bittersweet as we were unable to finish the season completely and celebrate as a team".
Ian Owen has a good mix of youth and experience to call upon and when asked about her hopes and aspirations for the future at the Swans the talented Beynon explained " My hopes are definitely to train hard and try to be able to compete in the Champions League against the best teams".
"I'm excited to get back and see the girls now, it's probably the longest I haven't seen them for".  "The goal is definitely to try to maintain the standard that we've set this season and hopefully do the same if not better next season".
Asked for her advice to any upcoming players the Swansea star ended by saying "Work hard and be patient, I know everyone says it but it's that simple! It's taken a few years for us to win the league and be unbeaten".
Wolfsburg Sign Goalkeeper Katarzyna Kiedrzynek
Wolfsburg have completed the signing of Polish goalkeeper Katarzyna Kiedrzynek from Paris Saint-Germain.
The Bundesliga Frauen league leaders announced the signing of the 29-year-old stopper on their social media channels on Thursday morning.
I am immensely proud to be able to wear the VfL Wolfsburg jersey in the future," said Kiedrzynek".
"Although women's football in Europe has recently developed further and there are more and more attractive clubs with professional framework conditions, VfL Wolfsburg is still one of the greats of this sport, just as the women's Bundesliga is one of the best leagues in the world".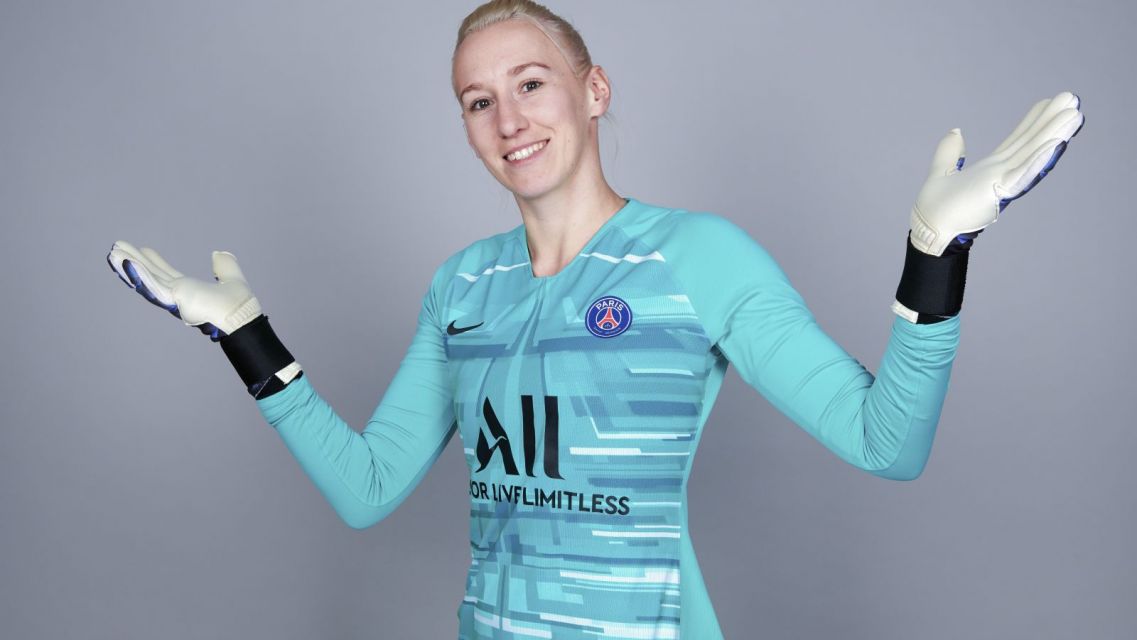 "After making the decision to leave Paris after seven years, Wolfsburg were my first choice".
"Whenever I played against VfL, I was extremely impressed by the high level of professionalism and mental strength of this team. Now I can hardly wait to be part of it, to get to know a new culture and of course also to win titles".
Kiedrzynek played for PSG 24 times in the UEFA Women's Champions League, 84 times in Division 1 Feminine and eleven times in the Coupe de France.
She has also won 52 caps for Poland throughout her career and his picked up the French league's goalkeeper of the year award on four occasions.
Beth Mead and Lucy Bronze Donate Jerseys To The One Goal's Together Against Corona Campaign.
Beth Mead has donated her match worn England shirt against Japan in the 2019 She Believes Cup campaign to the one goal organization's together against corona campaign.
The Arsenal attacker wore the shirt in England's 3-0 victory over Japan and scored the third goal in the match as England claimed the trophy.
80% of the funds raised will be donated towards the WHO (COVID-19 Solidarity Response Fund). The remaining amount will go to a charity, project or cause of the donating player's choice.
Mead's England teammate Lucy Bronze is also taking part alongside Wolfsburg duo Pernille Harder and Lena Goeßling in donating a shirt to the cause.
Mead was crucial in helping Arsenal win the Women's Super League in 2018/19 as she registered the most assists in the league with 12.
To be in with a chance of getting your hands on some special memorabilia all you have to do is donate at https://go.rallyup.com/togetheragainstcorona-bethmead
The maximum donation is £5 and that allows ten entries into the draw for the prestigious prize. The winner will be revealed via a draw that will take place on June 5th.
The One Goal's vision is to become a unique worldwide charitable organization that uses an authentic process within the women's game to achieve it.
The target at The One Goal is to work locally and internationally to raise funds from the women's game which will put back by donating to help organizations that are using sport as a method to help people and their communities. Their goal is to encourage and support future generations to give them more of a chance to reach their dreams not only in their chosen sport but also in their life goals.
The One Goal organization was founded by former Chelsea goalkeeper Hedvig LIndahl and Daniela Porcelli and throughout May will have 20 players shirts up for grabs.
Mandy Islacker Signs Pre-contract at FC Koln.
Bayern Munich and German international striker Mandy Islacker has signed a pre-contract with FC Köln.
Islacker joins on a contract running until June 30th, 2022 and is a major coup for the club who have already announced the signings of Lena Lotzen and Sharon Beck.
"I am really looking forward to being part of FC Köln from the summer onwards," said Islacker. "The discussions with those responsible for FC Köln have convinced me that women's football will continue to be built very professionally"
In 238 games in the Flyeralarm women's Bundesliga, she has scored 130 goals, including 17 goals in the DFB Pokal Cup and 13 goals in the Champions League in 27 games.
Sascha Glass manager of FC Cologne said "The discussions with Mandy Islacker were extremely good. She fits our team perfectly and will strengthen us enormously in the new season. She has impressively proven in all her previous clubs that she is a really good goal scorer." With the German national team, she helped them win the Olympics in 2016. She has played 25 games for her country in which she has scored five goals.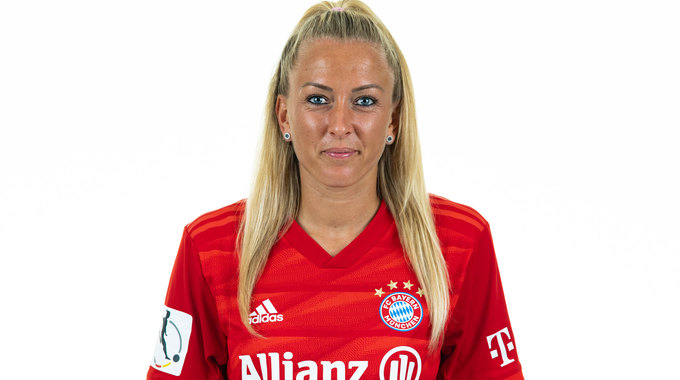 Islacker who moves to the club with plenty of experience also scored the winner for FFC Frankfurt in the Women's Champions League final in 2015 against Paris Saint-Germain.
Nicole Bender, sporting director of FC Köln described the move as one of the clubs biggest ever transfers, "We are proud to be able to sign Mandy Islacker despite big international competition and convince her of our path. She is one of the biggest transfers in our history and we're very pleased that she'll strengthen us next season.
Northern Ireland's County Antrim Challenge Cup Cancelled.
The 2019-20 Women's County Antrim challenge Cup has been cancelled due to the Coronavirus Pandemic.
The quarter-final stage was scheduled to take place on 18 May.
A statement from the County Antrim FA read "Given the current situation and particularly restrictions relating to football, the Committee have determined that the competition cannot be completed this season and the cancellation of such will allow teams further capacity to complete league fixtures, should the current restrictions be lifted."
Glentoran won the trophy last season beating Crusaders 2-1 thanks to a Kerry Beattie double. It was part of a remarkable campaign for the East Belfast side as they picked up all three domestic cup trophies on offer.
Emma McMaster scored the only goal of the game as they edged out Linfield in the Irish Cup final at Windsor Park after Demi Vance who has moved on to Rangers scored a double in the League Cup final against Sion Swifts.
Glentoran were set to start their defence against St Oliver Plunkett whereas league champions Linfield were ready to welcome Rosario to Midgley Park.
Due to the ongoing situation the Danske Bank Women's Premiership that was due to begin on 22 April was also postponed with Linfield aiming to win their fifth consecutive title.
Article by Josh Bunting [email protected]