It has been another busy week in Women's football as the 2023 World Cup hosts were announced and we had many ins and outs throughout the last 7 days, Josh Bunting rounds all the action up.
 Australia and New Zealand to host 2023 FIFA Women's World Cup.
Australia and New Zealand have been announced as the 2023 FIFA Women's World Cup hosts.
The joint bid got the nod ahead of Colombia, which was the only other rival in the running after Brazil and Japan dropped out of the race earlier in June. Australia and New Zealand's bid received the best score from FIFA's own evaluation report – 4.1 out of five – compared to Colombia's score of 2.8.
The competition is scheduled to take place from July to August 2023. The finals will feature 32 teams for the first time, with the bid proposing to use up to eight venues in Australia and five in New Zealand. The final will be played at the 70,000-seater Stadium Australia in Sydney.
A tweet from the winning bid's official Twitter account, @AsOne2023, read: "Australia and New Zealand have been granted the honour of hosting the Women's World Cup 2023!
"This landmark decision is a moment for everyone to celebrate #AsOne!
FIFA president Gianni Infantino said: "The bidding process was highly competitive. We would like to thank both bidders for their remarkable work. It was really, really well prepared."
The Italian also announced a funding boost for the sport. "We have decided to award $1bn (£805m) to the development of women's football in the coming four years,"
It will complete a busy year for the Women's game with the European Championships in England being pushed back until 2022 from 2021 due to the coronavirus pandemic.
Danielle Carter to leave Arsenal.
After 11 years at Arsenal Women's striker Danielle Carter will depart the club on the expiration of her contract at the end of the month.
Carter joined the Gunners from the Leyton Orient Centre of Excellence in 2009 and went on to make 184 appearances for the club.
She also helped Arsenal win five Continental Cups, four FA Cups where she scored the winner In the 2016 final against Chelsea, three Women's Super League titles and one FA Premier League trophy.
She departs the Gunners as the longest-serving player in the current squad as she scored 60 goals in 184 appearances.
She also suffered two anterior cruciate ligament injuries rupturing it on the final day of the 2017-18 season against Bristol City, forcing her to miss 10 months. The striker then made her return against Bayern Munich in the Emirates Cup last July but during that game ruptured her ACL once again.
Carter confirmed her departure on her social media as she said "After 11 years, 184 appearances, 5 Conti Cups, 4 FA Cups, 3 FAWSL titles, 2 ACLs and 1 FA Premier League title… it is with the heaviest of hearts that my time at Arsenal has come to an end. They say "I'm Arsenal till I die…." and today a massive part of me has died".
Manager Joe Montemurro told Arsenal.Com Danielle has been an amazing professional and character through very difficult times over the past couple of years. She has achieved many accolades as both a footballer and person and I'm sure there are many more to come. We want to wish her all the best for the future."
She has also made a significant impact off the field and was awarded the PFA Community Champion Award in 2019 to mark her inspiring work supporting Arsenal in the Community. A statement from Arsenal read "Everyone at Arsenal would like to thank Danielle for her outstanding contribution to the team's success, and for her exceptional professionalism and commitment to the club".
Carter follows Katrine Veje, Louise Quinn, Pauline Peyraud-Magnin, Silvana Flores out of Arsenal this summer with Emma Mitchell set to follow.
Niamh Charles signs for Chelsea.
Chelsea have completed the signing of Niamh Charles from Liverpool.
The 21-year-old England youth player joins the Blues from relegated Liverpool on a two-year contract.
Charles made her Liverpool debut aged 16 and went on to score 11 goals in 59 appearances for the Reds, including two against her new club Chelsea.
She has gone on to play for England at the 2016 FIFA Under-17s World Cup and her impressive form domestically continued to attract international recognition, having competed at the 2018 Under-20 World Cup where she helped the young Lionesses to bronze
On signing for the Blues Charles said: 'I'm absolutely delighted to be joining Chelsea FC Women. This is a really proud day for not only myself, but also my family.
'Emma Hayes is one of the most highly-regarded managers in our game. She was a huge part of my decision to come to the club. I know she will help me fulfil my potential and I will be working hard to make sure I give myself every opportunity to learn, develop and improve as a player. I can't wait to get started.
'I'm joining the current WSL champions and this club regularly competes for trophies domestically and in Europe – something I can't wait to be a part of.
'I want to say to the fans that I will always give my all and I'm really looking forward to playing in front of them at Kingsmeadow. The support Chelsea get is amongst the best in the league and I'm sure that together, we'll enjoy lots of success
Hayes went on to add "Niamh is a player we have watched since her debut season. She is a tenacious and willing competitor that gives everything in her performance".
'Her abilities out wide will be utilised on both flanks and we know her best years are to come. She knows what it takes to succeed here and she has a great head on her shoulders.
'I'm excited to show the fans her pace and ability in one-v-one situations.'
Her arrival follows the departures of Anita Asante, Deanna Cooper and Adelina Engman from the Chelsea squad.
---
---
 16+ PODCASTS P/MONTH

 12+ SHOWS P/MONTH

 DAILY ARTICLES inc SPECIAL GUEST WRITERS

 EXCLUSIVE INTERVIEWS

 Pre and Post Match Shows
FREE month Trial:https://buff.ly/2GNsNTv
Karima Benameur Taieb signs new contract at Manchester City.
Goalkeeper Karima Benameur Taieb has signed a new two-year contract at Manchester City.
The experienced shot-stopper will now be known as Benameur Taieb after adopting her mother's surname.
She played three times for the Cityzens in 2019-20 in a 5-0 Continental Cup victory over Leicester City, a 10-0 FA Women's Cup win against Ipswich Town and in the thrilling 3-3 Barclays FA Women's Super League draw with Chelsea, in which she was introduced as a late substitute.
"I am really happy to extend my contract with City," she said. "In the Club, what I like is that everyone works hard and gives the very best of themselves but at the same time, the atmosphere is very relaxed – everybody works hard individually and is looking at giving their very best within a very friendly and good working environment.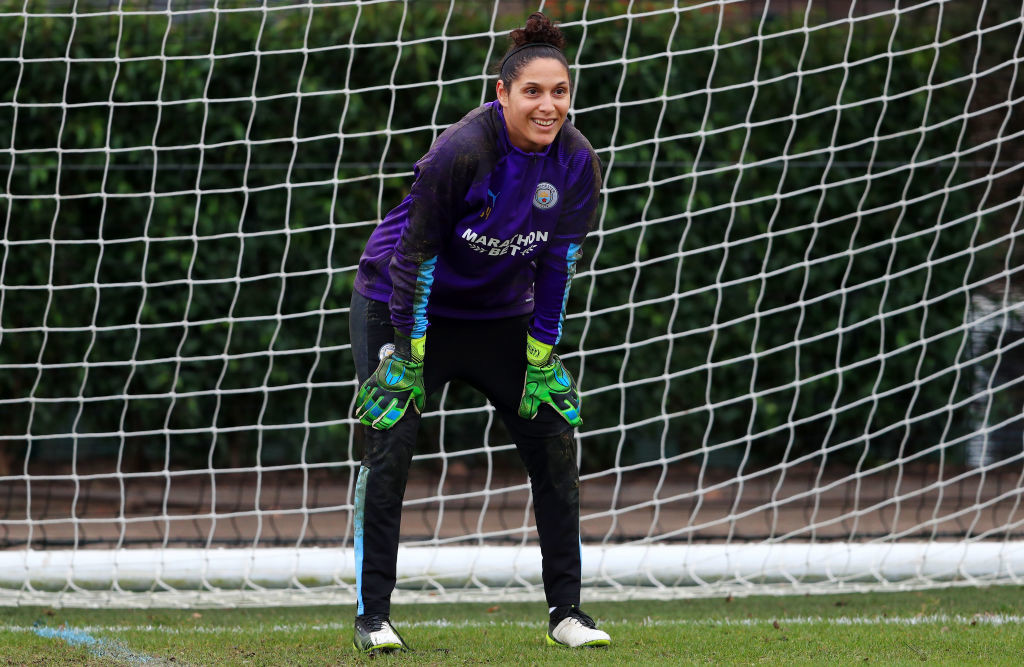 "This gives us the drive to be better and to want to do better. Regarding the facilities, City really provide everything we need for us to work in the best possible circumstances. I am benefiting from all of this and this is a wonderful experience for me. I am really happy.
"I knew that this past year for me would be a year to adapt because there are a lot of things that I didn't experience before. As a result, I have tried to improve and develop in other areas such as fitness, technique and style of play as well because City's style is quite special.
"I learned a lot of things. It has been a great season, a great year – even if it ended a bit too early, unfortunately.
"Personally, next season, I hope to have more gametime and to win titles next season because this year we didn't get the chance to do that, although we had everything to be able to achieve it.
Head of Women's Football Gavin Makel commented: "Having joined the club last summer, Karima has proven herself to be a top-class goalkeeper and an outstanding team player, whilst she has fitted seamlessly into the culture of the group.
"I'm delighted that Karima has extended her stay with us for the foreseeable future
Jess Sigsworth signs new Manchester United deal.
Jess Sigsworth has signed a new contract at Manchester United until the end of the 2020-21 season the club announced on Wednesday morning.
The 25-year-old joined the club from Doncaster Rovers Belles during United's formation in 2018. She has scored 22 goals in 48 games for the club and helped them to fourth in the WSL in the 2019-20 season before the league was curtailed due to the coronavirus pandemic.
Sigsworth has also represented England at under 17,18,20 and 23 level.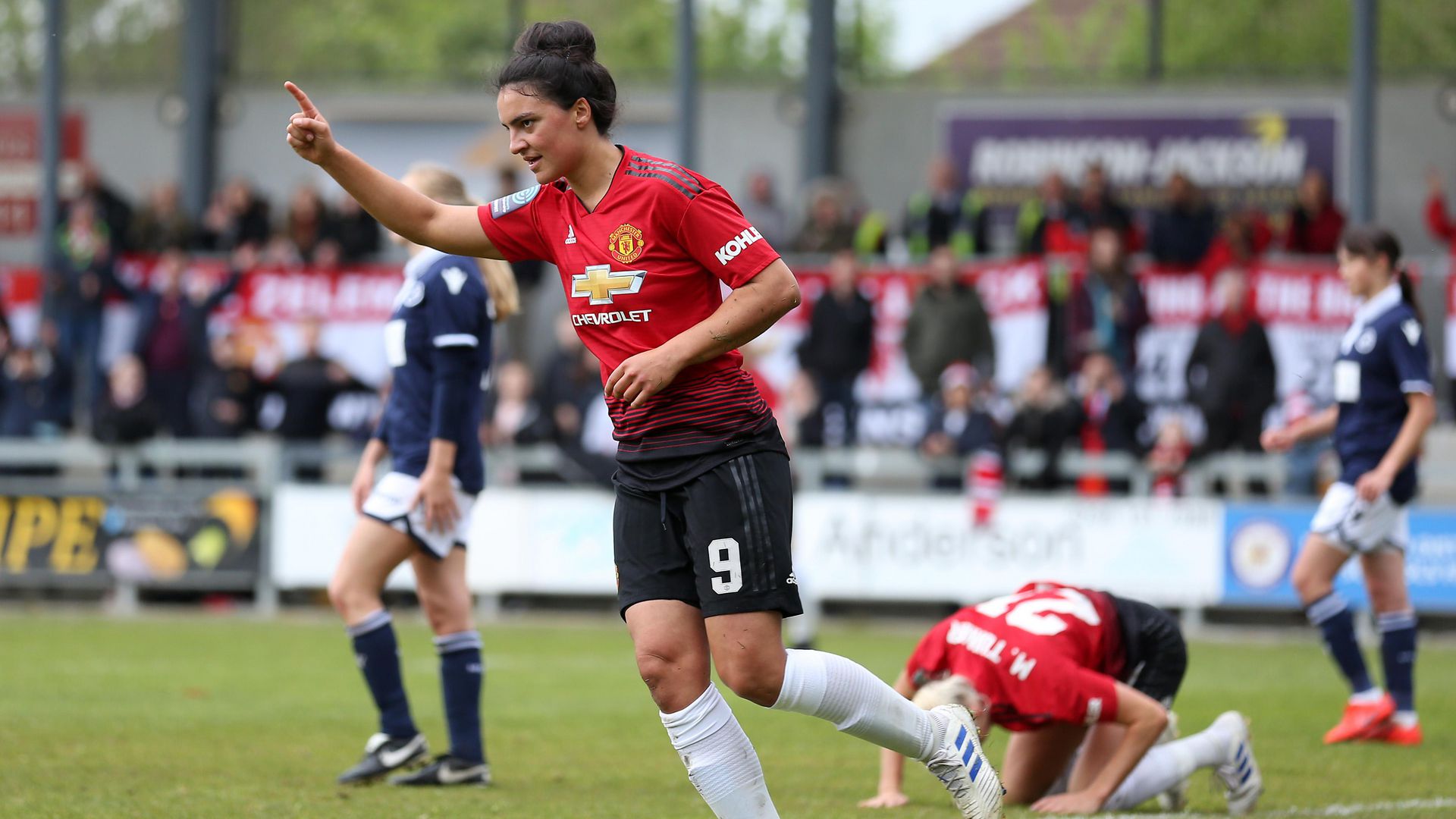 Speaking to the club website on her new contract she said "I love this club as a kid growing up supporting Manchester United it was always a dream for me to one day be a part of its amazing history. Signing a new deal is a proud moment for me and I am really excited to continue my journey here. I just can't wait to be back out there playing for the badge next season."
United boss Casey Stoney added "Jess is United through and through, so it's great to see her sign a new contract with the club. She is a great talent and has a remarkable work ethic; I see the commitment she gives every day in training, always pushing herself and others which is pleasing to see. I'm looking forward to continuing our work with Jess throughout the next year."
Sigsworth follows Amy Turner and Kirsty Hanson in signing new deals at Manchester United ahead of the new Women's Super League season.
Anna Moorhouse Signs for Bordeaux.
Goalkeeper Anna Moorhouse has made the move from West Ham United to French side Bordeaux the French side confirmed on Tuesday morning.
It was revealed earlier this month that the shotstopper would leave east London after her contract expired.
She made 24 appearances in two seasons at West Ham including one in the FA Cup final against Manchester City in May 2019.
Bordeaux are managed by former Arsenal manager Pedro Martínez Losa who led the Gunners to FA Cup glory in 2016 with a 1-0 win over Chelsea thanks to a Danielle Carter strike. Moorhouse's efforts for the Irons saw her called into the England under 23's squad for the Nordic Tournament in 2018.
The keeper played in four of West Hams Women's Super League games in 2019-20 before the season was curtailed due to the coronavirus pandemic as she featured in matches against Manchester City, Liverpool and twice against Reading.
On signing for Bordeaux the former Arsenal stopper tweeted Bonjour! Finally the cats out of the bag I'm very happy to sign with Bordeaux and to reunite with Pedro Martínez Losa again, When do we start playing football again?.
Bordeaux finished third in the French League before it was also ended with immediate effect with Lyon being crowned champions.
Sarah Bouhaddi and Dzsenifer Marozan extend Lyon contracts.
Sarah Bouhaddi and Dzsenifer Marozsan have both signed contract extensions at Lyon.
Both had been rumoured to move on this summer but have now committed their futures to the French champions.
German international Marozsan has played a total of 113 games for the French side and has scored 46 goals alongside winning four French titles, two Coupes de France, three European Cups and a Trophée des Championnes.
As for goalkeeper Bouhaddi she's played 11 seasons with Lyon featuring in 269 matches including 66 in the European Cup and she had the honour of scoring the winning penalty in the 2017 Champions League final against fellow French side PSG after it was decided on penalties.
Shes also won 11 French league titles, 7 French Cups, and 6 Women's Champions Leagues. Bouhaddi extends her deal until 2024 as Marozsan signs on until 2023.
Amy Turner extends Manchester United contract.
Manchester United have announced that Amy Turner has signed a new contract with the club until the end of the 2020/21 season, with an option to extend for a further year.
Speaking to the club website Turner said "I'm really happy to be continuing my journey with this fantastic club, I knew when I joined that we would be creating something special here and I can't wait to get back to playing football next season. I want to thank Casey and the coaching staff for their guidance over the last couple of years, and also the fans for all of the support they give us. We've been without football for a while now, so I'm just ready to get started next season and show what we can achieve as a team."
United boss Casey Stoney added "Amy is a great defender who brings so much professionalism to everything she does. She is also a fantastic leader to have in the squad and acts as a real mentor to some of the younger players which will continue to be so important throughout the next season. I'm really pleased she has signed a new deal and we can continue working together to develop her further."
Lucy Staniforth and Chloe Arthur leave Birmingham City.
Birmingham City Women have confirmed that Lucy Staniforth and Chloe Arthur are set to leave the club this summer.
Both players are out of contract at the end of the month and have decided to move on when they expire.
Staniforth made 43 appearances for the club in all competitions after joining the Midlands side from Sunderland in 2018. Born in York, Staniforth made her debut for Sunderland when she was just 16-years-old and helped the club to the FA Women's Premier League North title and 2009 Women's FA Cup final.
She helped Birmingham reach fourth place finish in the Barclays FA WSL in 2018/19.
The England International midfielder played 10 games for the Blues in 2019/20 accumulating 900 minutes as she scored once and claimed three assists. She also made her World Cup debut in England's 3-0 win over Cameroon in Valenciennes last June.
Scotland International Arthur is also moving on after playing 44 times for Blues in all competitions. She has also featured for Celtic, Hibernian and Bristol City over her career. Birmingham City finished 11th in the FA Women's Super League in 2019/20 as the season was cut short due to the coronavirus pandemic.
A Birmingham City statement read "The Club would like to thank Lucy and Chloe for their efforts, and we wish them the best of luck in the next stage of their careers".
Bristol City confirm double departure.
Bristol City Women have also confirmed that Jeon Ga-Eul and Eartha Cumings will leave the club this summer.
South Korean international Ga-Eul joined the City Women ranks in January 2020, whilst goalkeeper Cumings has been at the club since the 2018.
Manager Tanya Oxtoby said: "I want to thank Jeon and Eartha for all their hard work during their time at the club. They've both been a pleasure to have within the squad and we wish them both the best of luck for the future."
Lisa-Marie Utland leaves Reading for Rosenborg
Lisa-Marie Utland has left Reading to make a return to her native Norway.
The 27-year-old forward, who has made over 50 appearances for Norway, played 17 times for the Royals scoring 7 goals, including finding the net five times in one Continental Cup tie.
She joined the Royals last September from Rosengard but after just one season in the Womens Super League has decided to make a return to her native Norway.
Sakina Karchaoui joins Lyon.
Lyon have announced the signing of Sakina Karchaoui from Montpellier, she has won 33 caps for France and is highly regarded as one of the best left-backs in the world.
She signs a deal at the French and current UEFA Womens Champions League holders until 2021.
Speaking about signing for the club she said "I am super happy and proud to be part of this family. I am honoured to represent these colours. We have to get to work now. I have met a lot of the Lyon players on international duty; they are superb girls. OL are the best team in the world. This is the turning point in my career. I made the right decision. I am ready to fight for this team"
Sheffield United trio sign new contracts.
Sheffield United Women have announced that Kasia Lipka, Alethea Paul and Rhema Lord-Mears have signed new contracts ahead of the 2020/21 season.
The midfield trio have all put pen-to-paper on new contracts and ensure manager Carla Ward has plenty of quality in the middle of the park heading into the new season.
Paul originally joined from Manchester City in 2018 and was a regular in the United midfield, before playing predominantly as a left-back after returning from illness at the start of last season.
With 32 appearances across her two years at the club, Paul registered three assists getting forward from full-back last season and her versatility will once again prove key in the new campaign.
"I'm delighted to be signing with the club for another season. I can't wait to get back with the team and push for another successful season."
Experienced midfielder Lipka joined the Blades last summer 10 years after graduating through the club's academy.
A regular in the FA Women's Super League for both Doncaster Rovers Belles and Sunderland, Lipka joined during her return from an ACL injury which had kept her out for the whole of the previous season.
Lipka made seven appearances as she gradually returned to fitness and there's much more to come from the midfielder this season.
"I'm really pleased to have signed with Sheffield United for another season. I can't wait to get back on the pitch and push to go one better than we did last season!"
Lord-Mears only arrived at the club in January this year and was only able to make three appearances before the season was curtailed.
Arriving after a six-month spell at fellow Championship side Blackburn, Lord-Mears scored her first goal as a Blade against her former club 30 seconds after coming off the bench in what turned out to be both the team's final game and goal of the season.
"I'm really happy to have signed for another year. I'm looking forward to a fresh start after a rocky season but I know I need to work hard to solidify my name in the starting team. I need to find my love for football again and I think Sheffield United is the right place for that."
With all three bringing versatility and different qualities to the midfield, manager Carla Ward is delighted that all three have committed to another season at the club.
"Thea had a frustrating start to the season with injury and illness but after that she came into her own, she claimed her shirt and has been quality for us since. You saw a real focused side of Thea in the second half of the season and I hope she can kick on and we continue to see that from her this season."
"I'm looking forward to what Kasia is going to bring this season. We know she's an outstanding player but she's had a frustrating time with injuries over the last couple of seasons. Towards the end of last season, she started to get into a bit of form and injury free so I'm very excited to see what she can offer both on and off the pitch.
"Rhema is an exciting player and a player who can turn any game. I think if we start to get her a run of games and see what she's really about then I think she has the potential to be frightening in this league. She possesses so much quality and technically she's one of the best I've seen in the female game. Now it's getting her to turn that into performances and I think she certainly can so it's a big season for Rhema."
Article by Josh Bunting – @Buntingfootball